The Startup Blueprint series shares stories of founders and team members from some of Aotearoa's most epic and fast-growing startups. Hear about their journeys, learn from their insights, and maybe leave with a dose of inspiration.
We spoke with Tim Vaughan about his career journey, what sets a business apart when scaling internationally, the principles that hold true whether you're in a 20 or 250-person rocket ship, how to balance constant technological developments with long-term business strategy,
and

how to do it all from a little island at the bottom of the world.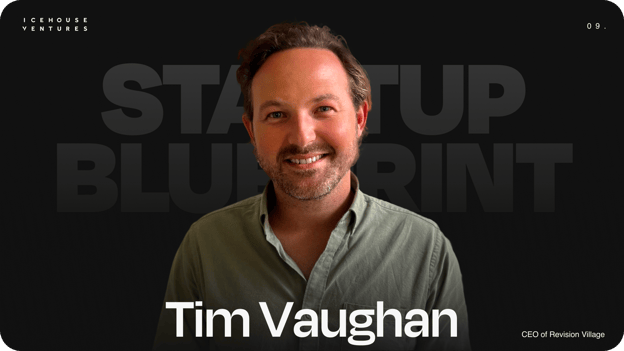 Buckle up, this month's Startup Blueprint interview is full of insights, story-telling, and books and resources you'll want to take note of. We had the pleasure of chatting with Tim Vaughan, CEO of Crimson Education's Revision Village. Tim speaks about his career journey, what sets a business apart when scaling internationally, the principles that hold true whether you're in a 20 or 250-person rocket ship, how to balance constant technological developments with long-term business strategy, and how to do it all from a little island at the bottom of the world.
Tim led global brand and marketing for a fast-growing B2C brand (when we say fast, we mean 1,200% +YoY fast). He was the head of Education Perfect, leading the business from inception through to product market fit and scaling to over 1M users globally. Took his learnings and launched a consulting practice to help high-growth companies scale, and finally landed back in the ed-tech space at the helm of Revision Village. He's also part of the Icehouse Ventures advisory network, to connect and support founders in the IV community.
Before Tim's entrepreneurial spirit really took over, he was a professional cyclist. It's not the first (or second) time a Startup Blueprint interviewee started their career as a professional athlete. 👀
We hope you get as much out of this interview as we did.
Thanks for sharing your wisdom Tim!
ME: Tim, pleasure to interview you! You've had an illustrious career in the ed-tech space; scaling a global business from NZ and now sitting at the helm of Crimson Education's Revision Village. Could you tell us a bit about yourself and the career journey that led you to where you are now?
TV: Very kind, thank you! Like most people, my career hasn't been linear and predictable. But the backdrop has always centered around entrepreneurial pursuits. I worked hard to gain university entrance in sixth form (Year 12) and at the ripe young age of 16 I headed down to Dunedin to attend the Sports Institute of Otago to pursue professional cycling. I had been competing at an elite level of sport for most of my teens and in hindsight, this has been instrumental in my career trajectory. The principles of discipline, routine, reflection and iteration, as well as developing resilience translate well into the world of business.
Without going into all of the stories, I knew my calling was always in business so following graduation, I made the move across to Otago University to study Commerce. It was through the Audacious Business Program that Craig Smith (Co-founder of EP) and I got to know each. I was launching a wine exporting business into China and Craig had a flashcard system for learning vocabulary he was calling Language Perfect (LP). I remember us all sitting in a tiny room off the computer labs that was setup as the LP HQ, we'd bounce between class and making sales calls. It was a wild time and the best kind of real-world business case you could have asked for.
After graduation, I wanted to see the world and gain more experience so made the move over to Sydney, working for a strategy and innovation consulting firm. It was a fantastic experience but after a couple of years, the post-GFC hangover resulted in a restructure and I used the opportunity to move up to Brisbane to oversee the growth of the Penny Skateboard phenomena, leading their global brand and marketing function. This was a formative experience in a hyper growth B2C environment. Spending time in the US with icons of surfing and skateboarding, whilst in a business that was experiencing 1,200%+ YoY growth really was a dream.
My journey back to LP started over a cold beer on a hot day in Brisbane. Scott Cardwell and Joel Labes are both founding members of the LP team and were in Brisbane meeting with schools. My wife Kate and I had just found out that we were expecting our first child. Scott pitched the idea of coming back to NZ and rejoining Language Perfect. Initially, I didn't want to entertain the idea, it felt like I'd be taking a major step back in my career. But the prospect of working alongside two good friends to scale a global business was too good to pass up. Before the end of the day, I had agreed to leave Penny for Language Perfect.
Interestingly enough, early in 2012, Craig had written in his diary that his number one goal for the year was to get me back to LP. At the time, it wasn't even a remote possibility. But strangely enough, later that year it happened. Take from that what you will! Several months following my arrival, we rebranded Language Perfect to Education Perfect and started developing content outside of languages. That was the genesis of the business we know today.
I led the growth of Education Perfect from those early days to over 1M users, scaling a team and launching EP in NZ. Our family did two stints in Sydney, launching Education Perfect in Australia and securing the first 800 schools. From here we started scaling the sales and customer success teams. Five V Capital and Mulpha came on board as majority shareholders in late 2017, they proved to be quality partners. Just prior to COVID we appointed an external individual as CEO and I moved the family to Singapore to focus on our expansion outside of ANZ. In 2021 we went through another sale event to KKR, I took this opportunity to fully exit and start exploring what the next phase of life might look like.
As part of my exploration of what's next, I started Strategic.ly - a consulting practice that was largely focused on helping high-growth companies scale. Despite my attempts to keep it as a lifestyle business, I found myself incredibly busy, juggling a lot of projects. After a few eat-pray-love trips to Bali and Fiji chasing waves, I realised how much I missed the comradery that comes from working alongside and leading a team. I was brimming with ideas and hungry to start something new or join an existing business.
It was only a few weeks after another Bali strike-mission that Jamie Beaton messaged asking if I could take a look at Revision Village and whether it's something I'm interested in leading. I dived into the data and saw a clear opportunity to bring in a more technology-centric approach to what was already an amazing library of content. I've only been in the role for 5 months and already the acceleration in growth has exceeded my wildest expectations. We operate a pure-play D2C PLG model and now have 85% of students studying the International Baccalaureate Diploma Program globally using the platform. We've tripled the number of products available, launched a new set of tools for users, and built out a proprietary AI model that is having a profound impact on both the teaching and learning experience. But in reality, the real unsung heroes are the two executives I lead the business with - Anthony Ferraro and Wasiq Kashkari. Both are some of the most talented, well-rounded, and commercially creative individuals I've ever had the pleasure of working with.
ME: We've heard you say the secret sauce to Education Perfect was being customer-obsessed. Could you elaborate on what that means to you, why it was so pivotal in helping Education Perfect succeed, and whether you still take that same belief into your work today?
TV: I tend to think of customer centricity as a way of being rather than doing. By that I mean, regardless of seniority, role, or domain expertise, continually seeing and experiencing the world from your user's perspective is the critical ingredient in commercial success and ongoing innovation.
Language Perfect was a great product that initially served a niche within a niche. In achieving product-market fit so quickly, we naively thought that we could copy/paste the playbook across to other subjects. This turned out to be exceptionally wrong - and our users were quick to tell us! I distinctly remember a phone call with Craig, I was walking down Pitt Street in Sydney after a series of stinging setbacks, asking whether he thought there was a path forward for the business. I was pulling 80hr weeks and it felt like we just kept spinning our wheels. Even my perma-optimistic self was struggling to believe we would ever get EP working the way we envisioned it.
Sometimes it's better to fail so badly that you've got to completely start again. And it turns out, the constant stream of critical feedback on the program was just the medicine we needed. We decided we were so far off course, it was better to start again and rebuild EP from the ground up, off the back of all the feedback we were receiving. We quickly learned that our so-called 'customer centricity' was riddled with assumptions and confirmation bias. The success of Language Perfect had lulled us into a false sense of security, believing our own hype and that we could achieve similar success on a larger scale without truly understanding the problem we were solving. Customer centricity means nothing if you're not walking the walk.
Naivety became our greatest asset as we constantly sought input from users to really co-create the platform. I'm pretty sure I'm owed an honorary doctorate in airpoints, spending thousands of hours with prospective users to better understand EP in their context. Over time, we generated a groundswell of support from people who wanted to be involved because we started really listening - and rapidly iterating off the feedback they were giving us. I'll never forget the profound generosity and support from individuals like Walter Chen (Saint Kentigern College), Doug Vass (Newington College) and Elmarie Filmalter (Nowra Anglican) to name a few. They were instrumental in shaping the product to what it is today.
It's this compound effect of thousands of micro changes that resulted in a user experience rapidly improving. You quickly learn that no matter how customer-centric you are, your reaction to a bug report on Jira is very different to seeing the same bug stop a student from submitting their answers in a high-stakes assessment.


" Over time, we generated a groundswell of support from people who wanted to be involved because we started really listening - and rapidly iterating off the feedback they were giving us. "
ME: You've experienced the inception of a business through to having 250+ employees. How have the experiences differed? Are there any constants no matter what stage you join a fast-growing business?
TV: There were distinctive phases through the growth of EP. At each stage, it's incredibly important to be clear on what you're optimising for. In the early days, it's entirely around PM fit. Once that's being established, it's optimising for a business model and eventually to efficient scale. Regardless of size, in a fast-growing business, you can't afford to be too idealistic. Systems and processes which served their purpose at a certain scale quickly become obsolete, there are always going to be a myriad of problems and challenges. You're always looking for drivers and not passengers, those who can see beyond the inevitable shortcomings and focus on delivering results in spite of those growth challenges.
Scale can also see some individuals with the best generalist skill sets struggle as the scope of their contribution is narrowed due to the need for specialists. You can't run a business at scale the way you operate a start-up. Ideally, the best well-tenured employees can grow with the business and you're able to retain the often incredibly important insights and perspectives they bring.
There are two principles that I've seen as north stars - ensuring alignment around the number one priority and remaining focused on execution. If you can't name your number one priority with clarity and conviction, people will fill this vacuum with what they think the priorities are. It may not be evident at first, but over time creates enormous friction and wastage - and this is only amplified as you scale.
Regardless of your scale, high performers crave a culture of energy and pace. It's up to leadership to work through the noise and set a clear priority for the business, ensuring alignment across teams towards the desired outcomes.
"There are two principles that I've seen as north stars - ensuring alignment around the number one priority and remaining focused on execution. If you can't name your number one priority with clarity and conviction, people will fill this vacuum with what they think the priorities are. It may not be evident at first, but over time creates enormous friction and wastage - and this is only amplified as you scale."
ME: The ed-tech space is one that seemingly requires constant innovation and keeping up with how people use and engage with technology. How do you balance new technological developments with long-term business strategy?
TV: The two main ingredients you've got to get right in software companies are product and revenue. At Revision Village, we review our business strategy every 6 months, this feeds our product and go-to-market plan. Outside of this, we run a monthly SWOT analysis to assess whether there have been changes in the landscape and whether we need to change any aspects of our business or product roadmap.
Outside of these processes, we're laser-focused on executing the business plan. Strong execution almost always provides better insights and questions to help you shape your strategy. There's always a place for discovery and debating the merits of an idea but I'd argue you're better to resist over-indexing on strategy in favor of testing an initiative that's less refined, investing the larger majority of time on the ongoing iteration and validation. Clarity on how you shape and refine strategy will emerge through this process.
Innovation of course sits on a spectrum and we often tend to think of this as being disruptive or category-defining. But my experience has been that it's the compound gains of incremental innovation over time that have the greatest impact. Start small, then double down on initiatives that gain traction.
Innovation is by definition, impossible to predict as it can come from the quietest voices from the most unexpected people and places. So you've got to create an environment where it can thrive. This means creating a culture that is primarily a function of two things - do-ers who are empowered and feel safe to try new things (launch and learn) combined with insights from your customer connectedness.
The sobering reality is, your customers almost certainly won't care about your product as much as you do, so don't believe your own hype. They care about the outcome your product achieves for them. You quickly find that your customers are benchmarking their user experience with other products in completely different verticals. Hence why customer connectedness is such a critical driver of innovation and ultimately shaping business strategy.
Employees might come for the craft beer and ping pong, but they'll stay for a high-performing culture that thrives off customer-centric innovation and personal growth.
ME: You're part of the Icehouse Ventures advisory network, meaning you graciously provide your time and expertise to founders within the IV community. What is a piece of advice you'd give to all Kiwi founders who are in the throws of building a company from this remote little island we call home?
TV: I often find myself encouraging founders to steer away from being too conventional. Trust your instincts. Entrepreneurs are contrarian by nature so you shouldn't have to follow the herd.
I'll give you some recent examples... There's a particular founder who wanted to hire a full-time salesperson to drive revenue. They were focused on product development and didn't have time to also sell. I suggested those two things are not mutually exclusive and that sales could be a by-product of engaging with prospective customers to develop the platform. That's proven to be very accurate. Another recent example is a business that wanted to raise capital to build an MVP for a B2B product. I encouraged them to create a Figma prototype so they could take the concept to a handful of customers before writing a line of code. They may even be able to get funding through a beta customer. Those are two small but recent examples.
I love biographies as the stories and experiences of these often individuals make them far more relatable. I'm currently reading Invention by James Dyson which I highly recommend. ShoeDog on Phil Knight's story of building Nike is incredible and a great follow-up is Emotion by Design by Greg Hoffman who was Nike's CMO. Closer to home, I always recommend two books on Kiwi entrepreneurs - Robert Laidlaw who founded Farmers - 'Man of our Time', and the story of John Anderson's Contiki Tours - 'Only Two Seats Left'. We really do stand on the shoulders of giants!
🔥 Quick-fire questions
Why do you love what you do?
TV: The trifecta of commercial creativity, intellectual challenge from solving problems, and comradery that comes from working with teams towards a common goal.

Most useful resource you've listened to/read/absorbed recently that you'd recommend to others?
TV: The Reforge community founded and run by Brian Balfour - check it out.
It's the year 2043, what's one thing that you hope has materially changed for the better as a result of the work you're involved with?
TV: There's no question we've got some major challenges facing the country right now with declining productivity, falling literacy and numeracy rates, and inequality driving major social issues. If productivity is a proxy for economic health, we've got some serious headwinds. To address these challenges, my hope is that NZ becomes a hotbed of technology innovation which drives our wider economic prosperity. We can already see that over the last decade, technology has grown to become New Zealand's second largest export earner and there's no reason this can't be many multiples of what it is today. Achieving this will require a combination of progressive policy, access to funding and services, and an ecosystem that supports entrepreneurs with an ambition to create world-class businesses. My hope is that I can in some capacity, contribute towards this vision for a better future.
---
You can find Tim, here.

Want to be among the first to read our 'Startup Blueprint' interviews? Join the IV community by subscribing to our newsletter here ✌️