The Startup Blueprint series shares stories of founders and team members from some of Aotearoa's most epic and fast-growing startups. Hear about their journeys, learn from their insights, and maybe leave with a dose of inspiration.
We spoke with Samantha Gadd and Jenny Busing, co-founders and co-CEOs of Excellent. Excellent believe in a world where every employee has a voice in designing their experience of work. They are spearheading the EX revolution, calling for leaders to design
with

rather than

for

their people.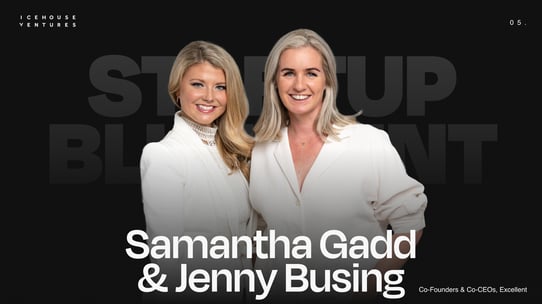 Having an incredible team is regularly credited as the most important part of an early-stage startup. Jenny and Sam have demonstrated what it means to build the best crew to execute their mission. From coming together as co-founders, to building a product with their community and designing a world-leading EX Manifesto with the best-in-class EX practitioners, future thinkers, and ideators.

Both Jenny and Sam have had illustrious careers that have seen them traverse different landscapes before joining forces as Co-Founders and Co-CEO's of Excellent, where they are now global leaders driving change in employee experience (EX).

Before Excellent, Jenny was a serial entrepreneur and professional athlete, while Sam was growing the largest EX & HR consulting business in NZ. We couldn't think of a CEO duo with more expert knowledge (and EQ!) who would be better positioned to change the landscape of how people show up at work.

Steph, our Head of Community, sat down with Jenny and Sam to talk about their learnings in building a business that disrupts the norm, the importance of Excellent being global from day one, and what it's like doing it all as a pair.
Yourselves, Tracksuit, and Sharesies are all building an exceptional case for having Co-CEOs; why did you believe it was the right choice for you both and how does it work in practice?
Jenny: The CEO role is extremely broad. In a startup with a global customer base where agility and speed are key, it's important to have enough decision-making power to keep pace. The last thing you want to be is a bottleneck. We believe in sharing the load and leaning on our respective strengths to take the company forward as fast as it can grow.

Sam: There is no way I'd want to be attempting to grow a global company alone! Having been a sole Founder and CEO before it can be a very lonely place to be, both in the highs and lows. Sharing the role of CEO is going to be critical for moving at pace and for our mental health ;)
You've got an impactful mission which is a good start to attracting a strong group of supporters but it takes more than that to grow a network of the best in the world like you have, how have you gone about establishing these relationships and continuing to make them feel included in the journey?
Sam: Honestly, the answer is having the courage to ask and the passion in what we are doing to get others excited and working on a problem others also believe needs to be solved! We stay in touch as these people are genuinely some of the coolest I have met in my career, so continuing to build our relationships with them is so fulfilling. We are also learning a bunch from them every time we connect, which is critical for both our business and product strategy.
You're not just building a disruptive solution, you're creating an entirely new category - how did you establish the approach you took and what are some surprising learnings you've discovered along the way?
Jenny: Innovation comes from deep understanding and insight on a problem before trying to solve it.

Centralizing and mobilizing people who are values aligned and deeply care about solving the problem you're focused on is a great way to build a movement.

Design with not for the people you plan to serve.

At Excellent we started with building a global community and a world class certification program to support practitioners and then gathered the world's best thinkers and leaders in the space to write the EX Manifesto and form the Global EX Council. We know a movement requires input and participation from all stakeholders and so we set out first to create a platform for people to connect, learn, share, practice and lead. After spending a year studying the problem we are developing technology with all of the data points we have gathered to help solve the challenges we learned about from creating and being in community with our people.
You've been building a global business from day one, what's your advice to other founders considering that approach?
Jenny: If you want to be a global company "someday" it's important to see the whole board from the beginning. Exponential growth requires exponential thinking and for us that meant global from day 1.

Sam: Get out of New Zealand immediately. I got myself to the US as soon as it was possible to grow my mindset and network - having spent my entire life in New Zealand I knew it was important to spend time physically being in a new environment, if for nothing else but to gain a new perspective on the size of the opportunity.
You're both leaders that I admire, how would you each describe your leadership styles and how have they evolved throughout your careers/roles? Bonus bit - how do you continuously learn as a leader?

Jenny: I'll describe some of the things I admire about Sam's leadership. First and foremost Sam is constantly growing through network building, learning, and sharing, which leads her to create things that are evolved and bleeding edge. She has contagious energy and enthusiasm that captures people's attention and makes them believe in the vision she has. Sam is a leader people respect and follows because she shares transparently and authentically the challenges and wins she experiences and acknowledges everyone involved in making the vision a reality.

Sam: Jenny's leadership style is bold, experimental, generous and strategic. I think Jenny's incredible career history which began as a high-performance athlete has provided Jenny with a strong base to become a powerful business leader. Jenny has a gift for being discerning about external input and self-belief that is entirely contagious. Jenny is a very good systems thinker too and is often pushing our team to think big while holding onto an abundance mindset.
"If you want to be a global company "someday" it's important to see the whole board from the beginning. Exponential growth requires exponential thinking and for us that meant global from day 1."
🔥 Quick-fire questions
Most useful resource you've listened to/read/absorbed recently that you'd recommend to others
Jenny: Community-Led Growth: The Product-Led Growth Expansion Pack

Sam: Podcast: What this 3-time founding team did differently to find product-market fit faster — Jessica McKellar, CTO of Pilot


A word or phrase that reflects how you approach startup life?
Jenny: All the ways - Most challenges or opportunities are limited by our thinking. We like to zoom out and think of all the possible ways to solve a problem or think of all the ways an opportunity could be massive.
Sam: Remember every moment only lasts for a moment - the highs and lows - don't get too caught up at either end!
What do you do when you need inspiration?
Jenny: I love to catch concerts, ballets, or an art show to reframe my perspective.

Sam: A walk in nature is always what I need, particularly in the bush or by the Ocean (and the South Coast of Wellington combines the two!)
Favourite activity to do with the Excellent team (that's not directly related to work)?
Jenny: I have a Spotify playlist called "An Excellent Week" that I update each week with a song in honour of each person on the team. Occasionally Sinead, our Community Lead guest DJs and I love this tradition.

Sam: Enjoy being foodies together.. we all love great food!
---
You can find Jenny here, Sam here, and Excellent's EX manifesto here.

Want to be among the first to read our 'Startup Blueprint' interviews? Join the IV community by subscribing to our newsletter here ✌️