The Startup Blueprint series shares stories of founders and team members from some of Aotearoa's most epic and fast-growing startups. Hear about their journeys, learn from their insights, and maybe leave with a dose of inspiration.
We spoke with Nick Jackson, CTO of Pyper Vision about his journey growing with Pyper Vision, how he's up-skilled and continued learning along the way, and the juggling act of innovating while also working with regulators and other stakeholders.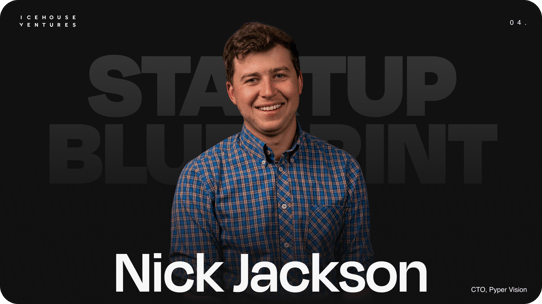 You've been an active member of the NZ startup ecosystem since university, can you tell us about your journey and what support you've had (think programmes and people) to get where you are today?
I initially got involved in startups when I began working with Emily (Blythe) in my final year of engineering at UC. I really enjoyed getting stuck in on the ground floor of solving a massive real-world problem. On leaving university I was stoked to join Pyper Vision full-time and dive further into the world of startups.
Since beginning this journey I have been through Venture Up, Te Ohaka and Startmate, all of which have been amazing opportunities for learning more about startups and building great businesses as well as opening me up to many new connections and mentors. It has also been great to engage with investors, regulators, customers and other stakeholders along the journey to continually learn and understand what we are doing from different perspectives.
Pyper Vision really is tackling the tough problems with a solution that could have an impact for generations to come, what does Pyper do and why do you love being a part of the team?
Pyper Vision was created to solve the problem of fog disruptions at airports. We have developed a solution that is able to create safe visibility for aircraft to take off and land. I have always been interested in aviation and when the opportunity came along to work in the space I was instantly drawn to it. It has been really cool to become involved in the industry and I have particularly enjoyed flying our RPA (remotely piloted aircraft) and working with stakeholders on integration and operational concept development.
You've been part of the Pyper team since the early days, how has your role evolved throughout this time?
Initially, I came on board as part of my final year project at the University of Canterbury doing research into how Pyper Vision could scale our product from lab to an airport. That then grew into a research Masters before a full-time role. A lot of the initial work was focused on building models and running lab experiments to help with the scaling of our product. As I moved away from the research I became involved in many other aspects of the business including product development, health and safety, regulatory/compliance, and operational processes as well as supporting other business areas such as sales and investment.
How do you define the CTO role and what kind of mindset and approach does a startup CTO need to bring to work in order to be successful?
At Pyper Vision, I see the CTO role as leading all of the technical development and implementation. For us the technology is everything from the RPA (remotely piloted aircraft), the dispersal system and the absorbent as well as how to operate it with a view to do it efficiently while maintaining high operational safety standards.
I think the key to being successful in this role is adaptability, in a startup with a small team and a complex problem to solve things are always changing and there are many areas of the product being worked on at once.
It is important to be able to adapt to work on the most pressing set of objectives while also maintaining progress on longer-term goals. It is also important to be aware of how each aspect of your work is interacting with other areas of the business.
As a deep-tech company, you're working with an extensive list of stakeholders, from airports & airlines to regulators, Iwi, government and many others. How do you balance innovation in your role with meeting the requirements of the involved parties?
This has been one of the more challenging areas for Pyper Vision over the last couple of years. One of the key things we have done that has worked well is bringing stakeholders along for the journey. Early on, we created a group of advisors from within the industry whom we could regularly catch up and engage with. These advisors helped us to shape our product to ensure it was fit for purpose while we were able to focus on the innovation and ensuring we were solving the right problem.
By bringing key stakeholders on the journey, they are able to see our progress and work and have had time to understand it and how it can fit into what they do. In particular, with the regulators, we have been able to use a step-by-step approach as we have progressed rather than turning up with a finished product and expecting immediate approval without previous engagement.
"By bringing key stakeholders on the journey, they are able to see our progress and work and have had time to understand it and how it can fit into what they do... rather than turning up with a finished product and expecting immediate approval without previous engagement."
You joined Pyper while at University, how have you evolved as a leader and how do you continuously learn and upskill?
I have enjoyed developing and growing throughout my time at Pyper Vision. I look to pick up new skills and learn anywhere I can. Books and podcasts are great learning opportunities that I have used extensively for things like improving my goal-setting, negotiating, and having tough conversations amongst many other things. I also like to regularly connect with other start-up leaders to share stories and problems and learn from others who may be facing similar situations.
🔥 Quick-fire questions
Most useful resource you've listened to/read/absorbed recently that you'd recommend to others
'Between Two Beers' has been one of my most listened-to podcasts over the last wee while. It does a fantastic job of a long-form interview with famous New Zealanders, that brings out some real gems of wisdom. Two episodes that have been really good recently are 'Dave Wood: How to stay calm under pressure' and 'Ruth Croft: What it's really like to win a 100-mile race'.


What you do when you need inspiration
I go for a run, it's a great way to clear my head and either switch off or focus on a challenge.


Favourite activity to do with the Pyper Vision team (that's not directly related to work)?
Quiz nights are good! But, as we have recently had a big growth spurt, we are due for some more activities with all our growing team.
---
You can find Nick here.

Want to be among the first to read our 'Startup Blueprint' interviews? Join the IV community by subscribing to our newsletter here ✌️