The Startup Blueprint series shares stories of founders and team members from some of Aotearoa's most epic and fast-growing startups. Hear about their journeys, learn from their insights, and maybe leave with a dose of inspiration.
We spoke with Anna Mowbray, serial entrepreneur and the founder and CEO of ZEIL, New Zealand's latest and most creative jobs marketplace.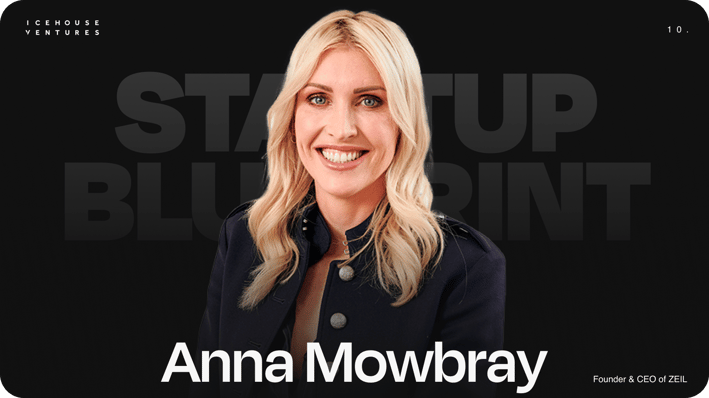 This is an interview full of inspiration and ideas! Serial entrepreneur Anna Mowbray knows what it takes to build a unicorn and she's back to do it all again. She's the founder and CEO of ZEIL, New Zealand's latest and most creative jobs marketplace.

In this edition, Anna shares how she's building a Unicorn from NZ with Kiwi talent, what a successful marketplace needs to have, how they're creative and customer-obsessed and tips on standing out no matter what side of the recruitment process you're on.
SB: ZEIL is a jobseeker marketplace, where users can discover roles and apply for them in an innovative way - what are your tips for both sides of your market - job seekers and businesses to help them stand out and how does ZEIL facilitate this?
AM: Gone are the days of boring walls of text similar to what you'd receive in a classified in the newspaper. Posting on ZEIL is a bold, emotive and highly visual way of capturing quality candidates. Our top-performing businesses have strong imagery, highlight the benefits and perks of their workplace and take the time to draw out the value of that particular job. If I could summarise it, I would say authenticity and intention is key. Not surprisingly, the highest engagement roles are those with remote work optionality - Flexibility wins in todays job market.
For candidates, Checking in daily for new roles as we consistently engage with more iconic NZ businesses will be key. Outside of that, It's really important that they make full use of their profile. Your ZEIL CV automatically updates every time you add a new position or skill, you can create a library of video cover letters, and companies are able to reach out to you in-app for real-time application updates. Staying on top of your profile and staying active on the platform really is key.
SB: I'm sure there were a million business ideas you could have pursued for your next venture - why ZEIL and how did you land on the idea?
AM: Going back to New Zealand, I knew that my next venture had to add value to New Zealand, to our economy and to be located where my passion burns brightest, which is people. This was what led to me exploring the HR sector.
When I first pursued this space, I stumbled across two metrics that really set my why. The first was that truancy levels across NZ have been increasing yearly since 2015 across every age, demographic and region, which means fewer children are regularly going to school. The second was that our youth unemployment rate was over 300% higher than the national average, which means that the kids not at school are also not moving into work.
Young New Zealanders are becoming less educated and less motivated to work. This concerned me hugely for the future of NZ, and so I decided to work towards a solution for these statistics. How do I engage our talented youth? How do I empower them into the workforce, and once there, how do I continue to stimulate their growth? At the outset of ZEIL, these were the questions I wanted to solve.
From this inception point I realised that a Job Marketplace which changed the status quo was needed and could also transform the world of advertising roles for organisations. But to make it great, we needed to add value for the job seeker and the organisation. For the job seeker, it's about connecting in a more relevant and emotionally driven way. Making the journey of finding a new role engaging and enticing.
Then for the organisation, we had to think differently and upend the current format for delivery of jobs. Storytelling and brand building has been a defining feature in my career, and I know is paramount to organisations looking to improve their talent density, so building in the capability for companies to target the right talent and manifest their stories was a key thought process.
We also wanted to make a platform that delivers richer more meaningful analytics to organisations and one where companies could immediately engage with talent to fast track the process from application to hire.
SB: You're disrupting (in a cool way) a very traditional but competitive sector, what are some of the key challenges you've discovered while doing this and how have you overcome them?
AM: There are several layers to building a marketplace that is engaging from an employer and candidate perspective, and you need to add value on both sides to perform. Our biggest challenge is ensuring we have the depth of jobs to keep candidates engaged with the platform. We don't just want to deliver on a niche but rather provide jobs that foster meaningful employment for candidates across all sectors. Overall the magic formula of more jobs and more candidates on the platform is always the goal, but it takes time to build strong tech that backs our vision so we can deliver on dreams faster.
SB: You've built such a fun brand at ZEIL and your platform encourages businesses to showcase their true brand to attract talent - what have been some of your highlights in building the ZEIL brand and what approaches do you think other founders could take to attract a new generation of customers?
AM: Months of hard work from our team to build ZEIL. Finding a strong voice for a modern job marketplace was challenging, but I'm a huge fan of block colour and an intellectual wit, thus us landing on the purple and a brand that pushes the boundaries with our commentary. From Billboards with taglines such as 'you found your boyfriend on an app, now find something useful' to campaigns focused to educating in a fun way on the best tips to finding your right next fit!
For founders, be bold, be different and don't be afraid to stand out and be distinctively you. During launch, some of our best campaigns came with a bit of cheek "there's nothing more thrilling than a new position" for one, so I think there's room to be creative. Our team at ZEIL is customer-obsessed! When you're making decisions from brand to everything day to day, always make sure you're looking at it through your customer's lens.
SB: You've had such impressive success with your first business (ZURU). You've mentioned you want to "climb another mountain in your lifetime", referring to growing another successful venture. What purpose inspires you and how do you sustain this kind of motivation in all that you do?
AM: I think, for me, the greatest motivator has always been having a strong purpose behind what I do. Founding ZEIL has been one of the greatest sources of movement, growth and development for me, and I thrive when I can see the same level of development from my team. Building a Unicorn from New Zealand with Kiwi talent and skills is a driver for me, and I know with ZEIL, we can do this.
🔥 Quick-fire questions
What do you do, or where do you look when you need inspiration?
Podcasts and books of CEO's and business leaders. There's always something new to draw out and I always feed back this information to my team. We learn together.


Tough, but if you had to pick one, what's your favourite brand and why do you think they're killing it?

This might be a bit biased, but Harvey Norman is really killing it from a ZEIL perspective. They've really embraced the new tech. However, if I could pick another company doing great stuff, The Attention Seeker has a really fresh take on content which I think we should also pay attention to.
A word or phrase that reflects how you approach life at the moment?
Curious
---
You can find Anna, here.

Want to be among the first to read our 'Startup Blueprint' interviews? Join the IV community by subscribing to our newsletter here ✌️